Below is a post from Dr. Paula Jackson. Paula has lived in several countries around the globe, both as a child and as an adult, and has spent the past 15 years working for multilateral institutions and schools around the world with a focus on social entrepreneurship and global citizenship. Outside of education, she is a passionate baker and cook, and strongly believes in the power of food to connect. Paula has recently joined our team at Barefoot Books as Director of Global Citizenship.
---
Creating family food traditions can be a fun and engaging way for children to learn about themselves, the heritage from which they come, and the world beyond.
Most of my fondest memories from my childhood are wrapped around my birthdays. My Grandmother always had a special cake that she made. It was the recipe that was handed down to her from her mother and then passed down to my mother.
Beautiful memories are often formed around special events, around the dinner table or in the kitchen. The process of creating family food traditions can instill a sense of ownership, responsibility and belonging. Here are four simple tips that you can incorporate within your home.
Designate Tasks
Allow each family member to own a designated task. In my childhood household, Sunday dinners were always special. The three children always took turns choosing what would be on the menu for that particular week. The youngest was also responsible for writing the grocery list and putting the items into the basket. I was always responsible for setting the table, and my father's tasks were to clear the table and do the dishes. Years later, even when all of us children have grown up, whenever we get together we still find ourselves automatically carrying out the tasks we did years before.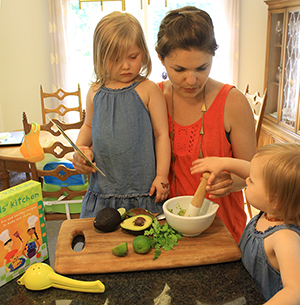 Take a Culinary Trip
Family food traditions can also provide insight into another culture. Every single food that we eat has an origin and each dish has a story to tell.
Choose one day a month and make it your day of culinary travel. Ask your child to choose a meal, and research the story behind that meal. Where does that food come from and what is the story of its origin? You can accompany the meal with a playlist that represents music from that place.
Plant Herbs
Giving your child seeds to plant can be a rewarding way to instill a sense of ownership and responsibility. Let your child choose a pot, which they can decorate. This pot will be the home to their chosen herb seed. Make sure to place the pot in a place that is easily accessible to the child. This could be on a window sill or on the kitchen counter. Tending to the seeds, seeing them grow and make their way into the meal can be exciting. Some examples of herbs that you can choose are basil, parsley, or rosemary. These can be easily used as a garnish on top of a dish.
Make Holidays Collaborative
You can make the holidays extra special for children by allowing them to actively contribute towards the festivities. I have lived in several countries and have adopted various traditions into our household. For Diwali, for example, I let my daughter and Godchildren make their own light decorations, which we hang up on the walls and on the dining table. For Hanukkah and Christmas, the children in my family are always in charge of the dessert-making and decorating under the supervision of their grandmother. It is the one thing that is "their thing" and they look forward to it every single year.
---
Celebrate food and family with books that include recipes!
---
Sign up for our mailing list!