Meet the entrepreneur mothers who started it all! Nancy and Tessa, co-founders of Barefoot Books, share their stories and discuss what living Barefoot means to them.
Nancy Traversy
Co-founder and Chief Executive Officer
Ever since we took our first steps back in 1993, living Barefoot for me has been about stories — the stories we make, the stories we share, the stories that are in all of us and the stories that connect us.
My own story began in Canada where I spent my childhood on the move from army base to army base, living in all sorts of towns. So it was pretty easy for me when I was in my early twenties to pick up and move across the world from Toronto to London when I transferred with my first job at Price Waterhouse.
The day in 1985 when I was asked by a male partner in the company to go home and change because I was wearing trousers which "women didn't wear" was the day I knew my story needed to change.
I have always loved numbers and, coming from a family who like to design, paint and create, this made me a bit of a black sheep. So it was a surprise when, in my mid-twenties, I discovered my own passion for colorcolour and design and decided to leave the big corporate world of finance to work in a small design house in Covent Garden in London. I stayed in the design industry for many years, where I learned the ropes of running a creative, entrepreneurial company and was lucky to be able to do business in amazing places like Japan, Korea and Taiwan.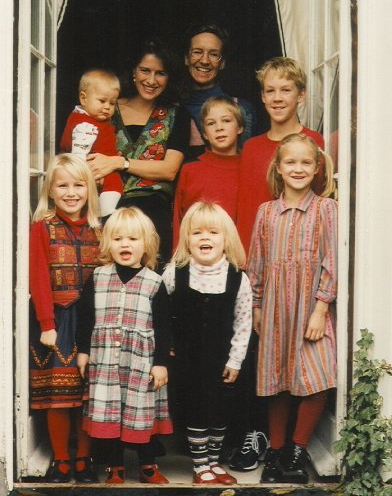 From left: Nancy with her children and Tessa with her children.
I think my willingness to take risks, curiosity about other cultures and ways of life, and real appreciation for stories, were born in those early years. When I met Tessa in 1992, my eldest daughter was three weeks old, and I had just started my own company advising small creative start-ups. As a new mommum, I was captivated by the idea of starting Barefoot and creating beautiful books for children that celebrate diversity and imagination. I didn't really know much about the publishing industry back then and, in hindsight, that was probably lucky as Barefoot has always strived to be more of a pioneer than a follower.
I had three more children over the next few years, and my kids have all grown up Barefoot, actively involved in testing stories, picking artists and generally helping out in our little business.
In 1998 we jumped off our first big cliff and decided to set up shop in NYC. And in 2001, my family moved to America, and we made our home in Concord, MA where we now live happily with our ever-expanding menagerie of animals and lots of colorcolour.
As we navigate our way in an always changing, and often challenging, landscape, we have certainly had our share of ups and downs in our Barefoot journey. However, I am proud to still be standing to tell our story, and to open children's hearts, minds and worlds through the power of stories.
---
Tessa Strickland
Co-founder and Advisory Editor
For me, living Barefoot is about honoringhonouring the life of the soul. I see stories as soul food: the way we tell them, the way we share them and the way we reflect on them give us clues about what it means to be human. Stories are the way we make sense of the world in all of its confusion and beauty: they act as road maps for us, not only during infancy and later childhood but throughout our lives.
My own life story started in rural Yorkshire. The second in a family of five children, I was lucky enough to have plenty of freedom to explore the local woods, streams and fields, by foot, by bike and on the broad back of my pony. At the same time, my parents instilled a keen sense of responsibility in me, a respect for the natural world and a curiosity about other people and places. My mother was a New Zealander with friends and relations in many parts of the world, so a stream of interesting guests passed through the house, bringing with them intriguing stories. As a child, I loved to paint, but by the time I was a teenager, language was exercising a fascination over me: I learned as many as I could and traveledtravelled as much as I could manage. I decided to study Classics at Cambridge University, and afterwards taught English to schoolchildren in Japan. On my return to London, I began my career in publishing, working first at Penguin Books and later at Random House.
Becoming a mother changed and enriched my understanding of the world in all kinds of ways. For several years, I combined a corporate career with parenthood, but by the time my daughter was born in 1991, London life was beginning to lose its sparkle. I knew I wanted my children to have the kind of freedom I had enjoyed as a child. I also wanted them to have space to write, paint, dream and imagine. And of course, I wanted this for myself as well! It was time to start living differently.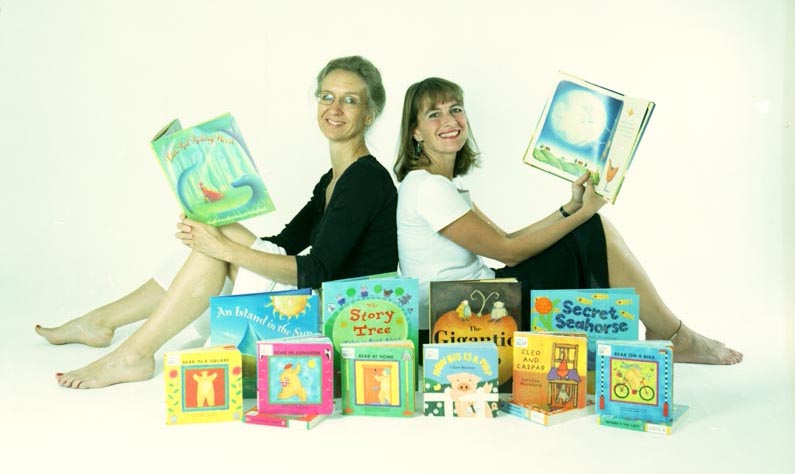 From left: Tessa and Nancy.
I'm often asked how I came up with the company name "Barefoot Books" — it actually came to me out of the blue, and seemed to be the best way to express what I wanted to do: to create stories that remind us of our contact with the earth, and of our common humanity. Different cultures have adapted to different environments and designed different types of footwear to do so, but when we take our shoes off, all of us are the same. I wanted to offer stories that, sometimes in very simple ways, express this: that honorhonour the child from Tanzania as much as the child from Scotland, Portugal, Columbia.
After 25 years, I stepped back from my role as Editor-in-Chief at Barefoot in December 2016. I now devote most of my time to writing for children and adults, and also have a private practice as a psychotherapist. To my mind, we are the authors of our lives as adults only to the extent that we have created our own scripts — mine is a work in progress!