Market Day in India
In this critically-acclaimed book inspired by the author's hometown of Chennai, India, a girl explores the vibrant rainbow of delights in a southern Indian street market as she searches for a gift for her amma (mother). Educational endnotes explain all the items on sale and introduce readers to markets around the world.
---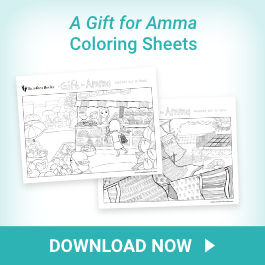 ---
Key Selling Points:
BASED ON THE AUTHOR'S LIFE EXPERIENCES: Set in the author's hometown of Chennai in Southern India and is based on her many visits to the local markets.
CULTURAL AWARENESS: Readers are immersed in a sensory experience of spices, sights and sounds as they learn about the foods, markets and customs of Southern India.
COLOR IDENTIFICATION: Each spread is saturated with a specific color and focuses on market wares of that hue.
EMPATHY: The girl must consider many options at the market and think about what her amma (mother) would most like as a gift.
EDUCATIONAL ENDNOTES: Endnotes provide information about the items for sale at the market and markets around the world. Also includes photos from the author's visits to the market on which the story is based.