Christiane Lagman, Community Bookseller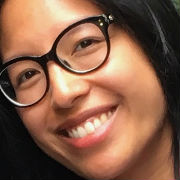 Christiane Lagman


Community Bookseller
Dartmouth, Nova Scotia
CA
Christiane's Barefoot Story
Hi, I'm Christiane! Whatever your background and links with literacy, let me help you add more meaningful stories in your family lifestyle, new entertaining family experiences, habits and routines at home and in your community!
I enjoy spending time to curate books for my son and I came across Barefoot Books' sing-along books in 2014 at our local library. I was delighted to discover the popular counting rhyme Over in the Meadow for the first time with him. We also had fun learning through the catchy tunes and actions of Outdoor Opposites. We loved them! I chose a bunch of other Barefoot Books as Christmas gifts to complete our personal home library the same year and we've been exploring, reading, listening, watching, singing and dancing along ever since! My youngest son seems to be inspired to do the same!
I am rewarded as a mother, as my sons' first intuitive teacher, to successfully share my passion for stories and books with them. I joined the Barefoot Books' movement through the Ambassador program because I wanted to continue to create inspiring memories around storytime with more families, and I believe children need books in their lives as much as we constantly yearn for growth. What could be better than to be the advocate for books who have opened windows to other cultures and perspectives, while also providing children of all backgrounds and abilities with a much-needed mirror of their own experiences!
Before Barefoot, I studied French Literature, Arts and Languages, and Cultural Journalism. I also had experiences working in the media and customer service sectors.
Please feel free to contact me by completing this form below and check out my Facebook Page Barefoot Books with Christiane. You will find me talking books, recommending powerful stories to actively open children's hearts and minds at home parties, schools, daycares and community events such as book fairs, festivals and fundraisers, and online!
Thank you for living Barefoot!
Kind regards,
Christiane