Becca Agli, Community Bookseller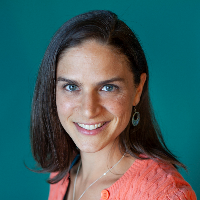 Becca Agli

Community Bookseller
Community Bookseller Since 09-25-2018
Middletown, Connecticut
US
When I first discovered Barefoot Books, I thought the books were beautiful and liked their general message, but didn't look closer at the time. When a friend of mine joined the Barefoot community, I took that closer look and found a clear focus on diversity, child empowerment, and imagination, in addition to the beautiful illustrations that first caught my eye.
Books like these are important resources, especially now, to help children and adults learn to celebrate each other's differences and also to see our similarities. I love that Barefoot strives to ensure each child can see themselves represented in these books, which means that any child can see all people represented. Encouraging imagination is critical as well; for how can we create a better world without first imagining it?
Since I became a Community Bookseller, I have continued to be impressed with Barefoot Books. I look forward to sharing them with you!