Eve Panzer, Community Bookseller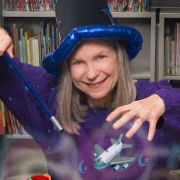 Eve Panzer
Community Bookseller
Community Bookseller Since 06-19-2019
As a retired children's librarian, I am uniquely qualified to recognize excellence in children's literature and Barefoot Books exceeds my high standards! I have a strong background in education after years as a school librarian and working with educational programs such as Montessori and International Baccalaureate. Because of these experiences, I am a valuable resource for recommending the perfect titles to educators, librarians and other adults in children's lives.
I have sold children's books in many venues including educational conferences, community events, educator professional development workshops, parent coffees, literacy events and book fairs. So, if you, your school or your community organization would like to have a Barefoot Books selling event, I am happy to handle the details for you!
I began selling Barefoot Books in 2007, and after a break due to life events, I am thrilled to be back in the Ambassador Barefoot Books selling community! I was a team leader at Barefoot Books for over 5 years, so if you are interested in selling Barefoot Books, I would be honored to mentor you.
Barefoot Books deliver global messages and provide lessons in emotional social learning through rich language, enthralling stories, engaging artwork and diverse characters. Barefoot Books are truly to be treasured and I am very proud to be selling them!