HOME ➞ MY BUSINESS ➞ MARKETING & TOOLS ➞ BRAND GUIDELINES
Brand Guidelines
How to use the Barefoot Books logo in your marketing
Do you want to use the Barefoot Books logo? We've created the following guide to give you pointers on how to use it best. Read through to learn our dos and don'ts. Logo files are available for download at the bottom of the page.
---
Barefoot Books Logo
The Barefoot Books logo has both horizontal and vertical versions, for use depending on what you want to put it on.


---
Logo Padding
It is always important to leave enough space, or padding, around the logo to allow it enough room to remain visually clear and important.

An easy rule of thumb for ensuring> enough padding around the logo is to leave enough space for the capital B to fit between the logo and another element, as illustrated here.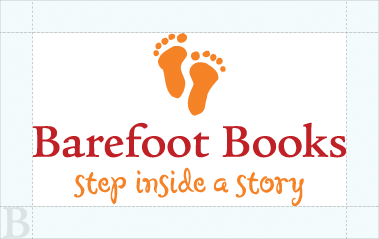 ---
Logo
Colors
Colours
The Barefoot Books logo comes in three colorcolour variations: colorcolour, white or black.

The colorcolour logo is best used on a light-coloredlight-coloured or white background.

The white logo is ideal on colorfulcolourful or dark backgrounds to allow the logo to stand out.

The black logo works best on a light background and in more serious contexts.
---
Logo Placement

The horizontal logo looks best when right- or left-aligned to an element, such as the top right corner of a page or image.

The vertical logo should always go in the centercentre of an element, whether at the top or bottom of the page, image, etc.
---
Logo Don'ts
Now that you know how to use the logo, here are just a few things that you should always avoid.

Do not skew the logo.

Do not rotate the logo.

Do not move or change the logo elements.

Do not obstruct the logo.

Do not add affiliation to the logo.

Do not change the logo colorscolours.

Do not add effects to the logo.

Do not cut off or remove elements.
---
Barefoot
Colors
Colours
The following are a few of our Barefoot ColorsColours with Pantone (PMS) and CMYK values for print use, and RGB and Hex values for web use.
Primary Brand ColorsColours

PMS 1797
CMYK 6, 88, 92, 0
RGB 204, 0, 51
#CC0033

PMS 716
CMYK 0, 48, 84, 0
RGB 245, 130, 41
#F58229

PMS 3262
CMYK 65, 0, 35, 0
RGB 51, 204, 204
#33CCCC
Secondary Brand ColorsColours

PMS 368
CMYK 51, 0, 86, 0
RGB 150, 201, 38
#96C926

PMS 123
CMYK 0, 28, 98, 0
RGB 255, 190, 36
#FFBE24

PMS 268
CMYK 61, 74, 0, 0
RGB 92, 56, 148
#5C3894
---
Logo Downloads
It is not permitted to use the Barefoot Books logo or any other creative property of Barefoot Books to create products for sale. Doing so is considered trademark and copyright infringement and can result in expulsion from the Community Bookseller program. Community Booksellers may only use the Barefoot Books logo for marketing materials that are used in conjunction with their business and are not offered for sale, such as invoices, emails or other personal marketing materials.
Community Booksellers may choose to produce additional marketing items with a third-party vendor using the Barefoot Books logo only if these items are for personal use. Examples include purchasing decals, branded bags, banners, etc. that are then used solely by the Community Bookseller purchasing them; these items cannot be sold to other Community Booksellers. An exception is made when a group of Community Booksellers purchases a large quantity of an item on a single order to obtain bulk pricing discounts. If a branded item is being mass-produced in this way, please let us know at help@barefootbooks.com so that we can ensure the brand guidelines have been properly met. Community Booksellers involved in group purchases are the only ones who may utilize the products purchased in the transaction; they may not sell any of the products to other Community Booksellers.