No one likes to be left out! Laugh along with the BIG book that fosters both kindness and mathematics. Young readers will giggle with delight as one hundred unusual animals try to squeeze into the oversized pages of this raucous rhyming tale. "But can we fit a whole blue whale?" is repeated throughout, as more animals join the melange. The humorously explosive ending features an expansive double gatefold. Educational endnotes list the 100 animals in the book.
---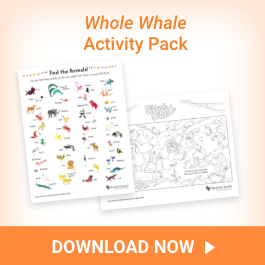 ---
Key Selling Points:
INTERACTIVE: Silly, rhyming text invites readers to assess, re-assess and make predictions.
ENGAGING FORMAT: The book's large format and gatefold at the end fully immerse children in the reading experience.
VISUALLY DRIVEN: Nelleke Verhoeff's wacky and loveable illustrations drive the story line while providing humor and interest.
STEM: The book introduces a variety of unusual animals and encourages children to count and make estimates.