Savor a rhyming celebration of one of the world's most universal foods! Readers follow ten diverse families as they cook dumplings inside their homes in preparation for a neighborhood potluck. Dumplings are added to plates one by one, encouraging children to count with each new addition. Authentic recipes for all the dumplings and a map showing their regions of origin are included in the endnotes.
Dumpling Day features dumplings from India, USA (Pennsylvania Dutch), China (Cantonese), Nigeria, Japan, Israel, Mexico, Syria, Russia and Italy.
---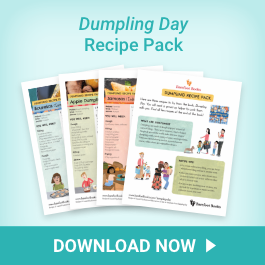 ---
Key Selling Points:
CONTEMPORARY SETTING & ILLUSTRATIONS: Chic artwork from Mexican illustrator Inés de Antuñano depicts a contemporary urban neighborhood setting.
CULTURAL AWARENESS: Offers an engaging introduction to dumplings as a universal food and their cultural variations.
MATHEMATICS: The book counts from one to ten as one more dumpling is added on each spread.
ADDED VALUE WITH RECIPES: Endnotes include user-friendly, authentic recipes for each of the 10 dumplings in the endnotes. Each recipe has a difficulty rating and uses ingredients that are commonly found in grocery stores.
CRITICALLY ACCLAIMED AUTHOR: Written by Meera Sriram, author of the critically acclaimed, A Gift for Amma, and based on her own life experiences as an immigrant living in an urban melting pot.