Daniela Perez, Community Bookseller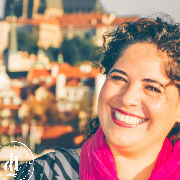 Daniela Perez

A teacher. World traveler. A writer. Wanna be a photographer. A global citizen.
I enjoy traveling, reading and sharing my passion for both with my fourth-grade Spanish immersion class.
My home is by the gorgeous Mississippi River in Minneapolis, Minnesota. Believe me, I still have not mastered the art of living in the Wintertime.