Lisa Doucette, Community Bookseller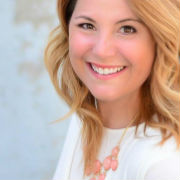 Lisa Doucette


Years ago, I stumbled upon a lovely little shop in the historic town of Concord, Massachusetts. 

I fell in love.  

My boys (2 & 4 at the time) and I were welcomed into a sea of vibrant colors as we entered the enchanted space.  

Beautiful books, playful puppets, a make-believe area and an art studio invited us to explore.  As both a teacher and parent, I appreciated every little detail.

At the center of it all?  A whimsical throne decorated with bright colors and rich velvet - fit for a master storyteller.  As luck would have it, we had entered just as storytime was starting.

My boys listened intently to the lyrical story as I took in the printed treasures all around.

There were tales from Africa, Ireland, and China just to name a few. 

From faeries to farms, each story was unique, yet felt connected at the same time.

Though I wanted to bring home the entire store that day,  I decided to purchase a book I knew my boys would adore - the one they had just listened to: The Magic Train Ride.  

When I saw that it included a CD with a song and animation of the story, I was pleasantly surprised - how unique! 

The quality and format of the book (a well-made, flexible paperback perfect for little ones) had already shown its value.  But a CD as well?  Wow.

I knew I wanted to be a part of this wonderful place that put children, imagination, art, music, and our beautiful Earth at the center of their hearts.  
I am now a proud community bookseller for this wonderful company. 
In this role, I am able to spread these beautiful books around like seeds to children everywhere, sparking curiousity, empathy, a sense of wonderment, and a fostering a love of learning.  
If you are a teacher who would like to bring books with layers of learning (and fun!) into your classroom, a curriculum coordinator looking to enhance the culturally diverse literature options for your teachers and students, a parent who wants to open up the world to your little ones, or if you would like to join me in creating a life you love, while giving the gift of reading to children near and far, please reach out! 

:) Lisa